Wayne Rooney scores unbelievable goal from his own half to complete hat-trick, watch video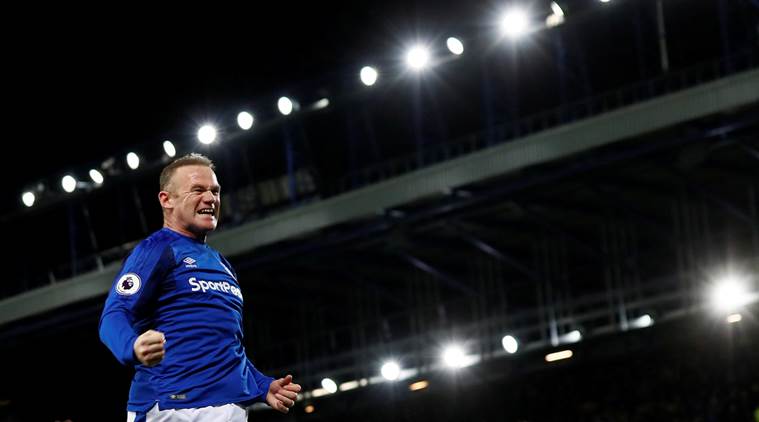 By: Express Web Desk |
Published: November 30, 2017 10:06 am Wayne Rooney scored a wonder goal from his own half on Wednesday. (Source: Reuters)
Having already scored twice to give Everton a 2-0 lead against West Ham, former Manchester United striker Wayne Rooney stunned Goodison Park with a wonder goal from his own half against West Ham on Wednesday. (English Premier League Home | Fixtures | Standings/Table)
This was after Hammers keeper Joe Hart unintentionally set up Rooney's wonder strike in the 66th minute, racing from his line to in hope of countering Everton's attack. Hart's clearance, however, found Rooney 58-yards away, who sent the ball not only the entire West Ham half but above the heads of the opponents' defense to finish his first hattrick for Everton.
Rooney's sublime skills set the internet on fire. The strike brought back memories of Rooney's famous goal against West Ham for Manchester United in 2014 and has been compared to David Beckham's strike against Wimbledon in 1996.
[embedded content]
"It's one of, if not, the best goals I've scored. I hit it as well as I've ever kicked a football. To make it my first hat trick for Everton, I'm delighted," Rooney told BT Sport.
"The third goal, it fell to me, Joe's out of his goal and I thought I'll have a go and I hit it sweet," Rooney said. "I tried to hit it hard and keep it under control. It was a perfect moment."
Everton went on to win the the game 4-0. Rooney rejoined his former club Everton in the summer break after a gap of 13 years with United where he scored a club record 253 goals.
For all the latest Sports News, download Indian Express App
© IE Online Media Services Pvt Ltd
Let's block ads! (Why?)
Via:: Latest news sports – Indianexpress