U-19 World Cup 2018: For India Colts, home is behind, the world ahead
By Sandip G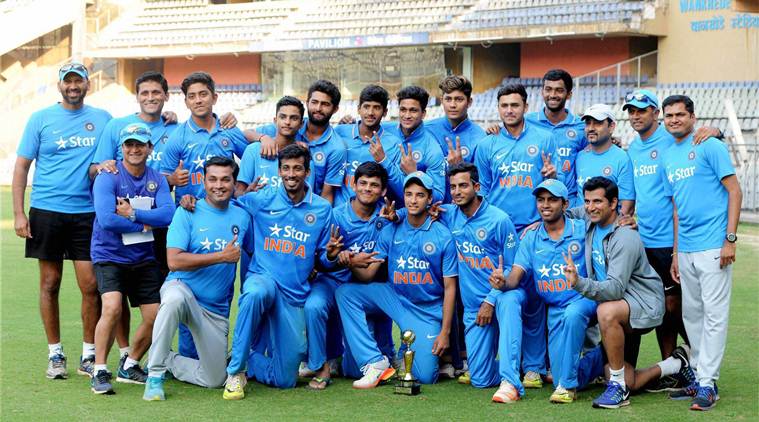 Written by Sandip G
| New Delhi |
Published: January 13, 2018 1:07 am India begin U-19 World Cup campaign from Sunday against Australia. (Source: PTI)
During an Under-19 quadrangular tournament in Mumbai last year, coach Rahul Dravid gasped in dismay. A wicket-keeper batsman, the sole missing link of an otherwise ship-shape side, he has been monitoring had just perished playing a careless stroke.
It, however, was an instance that illustrated how devotedly he has taken to himself the assignment of moulding the next generation of India's cricketers.
Not that his predecessors were less serious or focused, but Dravid has estranged himself from it's-fun-coaching-the-boys trope of them. He has, in his two-year tenure, inculcated into the profile all the virtues of his batting, that of hard work, meticulous preparation, eye for detail, togetherness, wringing in every ounce of potential from his wards, and without stamping or imposing his legend-hood on them.
The first thing he told a bunch of over-strung boys before the previous World Cup batch was not to be petrified by his aura. "The first time I saw him, I was literally star-struck and was at a loss of words. So were most of my teammates. Sensing it, he told us to be at ease, cracked a few jokes and told us to consider him as a elder brother or teacher. To us, he was both, and brought great value addition to each one of us," says all-rounder Washington Sundar.
To not value add is like not being Dravid. He keeps a close tab on even the minutest aspect of a player, as meritocratic as he was during his career. During the U-19 tour to England last year, Prithvi Shaw was unable to convert his starts into hundreds — his four innings read 86, 69, 51 and 44. He detected that Shaw tended to play away from the body as the innings wore on. He rectified this in the limited-over matches and scored a hundred in the fourth ODI.
Likewise, he corrected Shubman Gill's back-lift , which was too high for English conditions, and advised him to curb his aerial shots. The Punjab batsman reeled out hundreds in both youth Tests.
For several of the colts, the England tour was the most memorable moment in their yet-blooming career. They're a privileged batch too, for few of their u-19 predecessors were fortunate enough to venture outside Asia. The biennial World Cup, the Asia Cup and a fleeting trip to Sri Lanka or Bangladesh were their only exposure outlets. Back in Dravid's days, there weren't even U-19 World Cups.
But several of the latest brigade have played in Sri Lanka, England and Malaysia. The exceedingly promising ones like Shaw has played in Emerging Teams Cup and India A series. At the same, immense care is taken to not over-expose them – hence players are rotated and newer ones are blooded in, which also gives a deeper pool to pick from. Last year alone they tried 40 different players. "When I took over the U-19 coach, one of the things I felt was that people stay on and play too much of U-19 cricket, which I think is dangerous so we took a decision of not allowing anyone to play more than one World Cup," Dravid had said recently.
It benefits that Dravid dons the dual role, so that the transitioning has continuity, and not a case of having to adapt, or in worse cases unlearn and unpick, to the machinations of a new coach. Hence, the likes of Washington, Rishabh Pant and Shreyas Iyer have not only been A team regulars but also were afforded with sporadic breaks in the national side. Not just Dravid, the team has a whole set of experienced cricketers nurturing them, like bowling coach Paras Mhambrey, who like Dravid supervises the 'A' team bowlers too, and fielding coach Abhay Singh.
Until the aughts, they just had a coach, usually a former domestic player appointed at the twelfth hour, and a manager, generally an administrator the board wanted to appease. The selection process, too, is detailed, systematic and transparent, helmed by Venkatesh Prasad. And the selectors as well as the coaches are interacting on a loop with the domestic coaches too. Before Shaw made first-class debut last year, then Mumbai coach Chandrakant Pandit had consulted extensively with Dravid.
Suffice it to say that, India's junior structure is the envy of the cricketing world. The most recent praise came from former Pakistan skipper Ramiz Raja. "I think the PCB should consider appointing a former Test player who is well reputed with the national junior team just like India has done in the case of Dravid." Enviously will Dravid's boys too be watched.
In the leafy garden of the National Cricket Academy sat Virat Kohli, his spiky mane over-gelled, his eyes still gleaming in the afterglow of his U-19 World Cup winning feat. Unencumbered by the sudden limelight, he sprightly narrated the whole experience to the audience, gathered among who were the cream of Karnataka cricketers. One by one, the winners came and sold their stories.
Then almost as an after-afterthought Dravid strode onto the dais and offered them a timely piece of advice: "I just want you to remember that of the boys who won the U-19 World Cup in 2000, only one member was part of the winning team in Brisbane (CB series) today," he said. "It's something for you to think about. I played for the U-19s in 1991, and was the only one in my team to play for India."
Of course, times have changed since that balmy evening. Chances are that junior players wouldn't just slip into oblivion as it was during Dravid's days or as with the batch of 2000 he was referring to. The hype around them, which manifested only when they won the World Cup, has ballooned manifold. So have the avenues and opportunities. There is IPL-several of the current lot would have one eye on the auction on January 27 and 28,as franchises are keen as ever to roll-out Read More…
Via:: Latest news sports – Indianexpress