Sushil Kumar's PWL debut postponed yet again due to 'knee injury'
By Vinay Siwach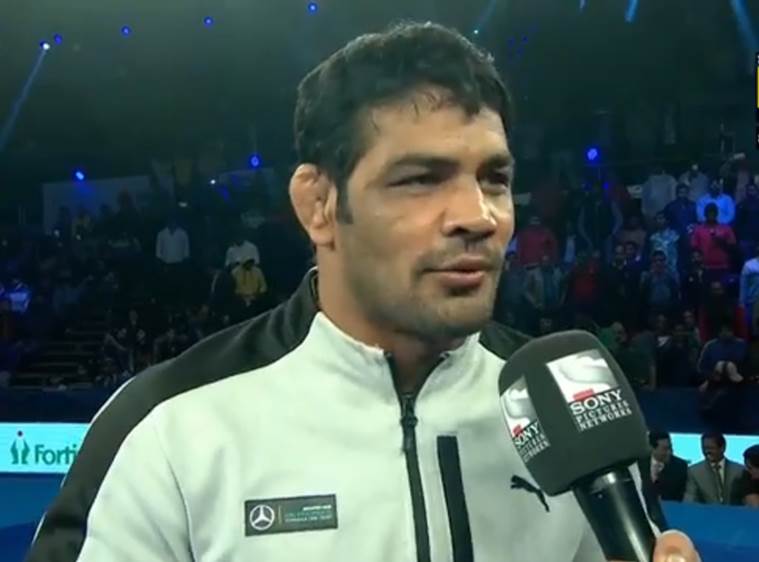 The costliest wrestler in the history of the league at Rs 55 lakhs was supposed to wrestle 2017 World Championships silver medallist Kethig Tsabolov of Russia. (Source: Sony Liv screenshot)
Written by Vinay Siwach
|
Updated: January 12, 2018 10:27 pm The costliest wrestler in the history of the league at Rs 55 lakhs was supposed to wrestle 2017 World Championships silver medallist Kethig Tsabolov of Russia. (Source: Sony Liv screenshot)
For the second time in four days, Sushil Kumar's Pro Wrestling League debut was postponed. He did not take part in the Delhi Sultans vs Haryana Hammers tie on Friday due to a "knee injury." The two-time Olympic medallist is supposed to rest for two days so as to avoid aggravating an injury he sustained while training on Thursday. On the first day of the league, Sushil's category was "blocked" by Sakshi Malik, captain of the opposing team Mumbai Maharathis. The costliest wrestler in the history of the league at Rs 55 lakhs was supposed to wrestle 2017 World Championships silver medallist Kethig Tsabolov of Russia on Friday but was replaced by Vinod Kumar who lost to Tsabolov 10-0.
Sushil pulling out of the bout against Tsabolov came as a big surprise for the fans who had come to the Siri Fort Sports Complex in New Delhi. On Friday, the PWL season three saw the highest number of people in attendance but many had to return disappointed after India's star wrestler was not on the bout list. At the end of the day, Delhi lost to Haryana 5-2 in the best-of-seven bouts.
"I don't know what happens to my luck just a day before the bout. I have bad luck before my bouts that I get injured. I think prayers will help me," Sushil said during an interaction between the bouts.
Since his competitive comeback in November last year, this bout was expected to be Sushil's biggest test given that Tsabolov is a two-time Russia champion and a former world champ at 70kg. The Russian himself was disappointed that he could wrestle Sushil, a bout which would have been a big for him.
"I was expecting Sushil to wrestle with me as he is a two-time Olympic medallist and a bout with him would have been a big test for me. It's just unfortunate that he got an injury," Tsabolov said.
If Sushil does get fit in two days time, he is expected to wrestle Jitender of UP Dangal on Monday. Jitender is the same wrestler that Sushil beat in the trials last month to qualify for the Commonwealth Games in April.
For all the latest Sports News, download Indian Express App
© IE Online Media Services Pvt Ltd
Let's block ads! (Why?)
Via:: Latest news sports – Indianexpress