Singapore Grand Prix: Max Verstappen content with 'maximised' second-place finish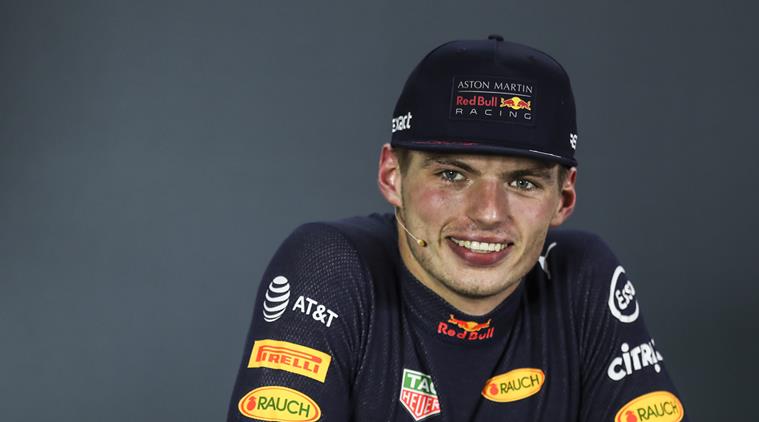 Max Verstappen was delighted to claim a hard-fought second place.
By: Reuters |
Published: September 17, 2018 1:24:51 am
Max Verstappen was delighted to claim a hard-fought second place.
Related News
Singapore Grand Prix: Erratic Sergio Perez under fire after crashing into team mateLewis Hamilton opens 40-point lead with Singapore Grand Prix victoryAngry Max Verstappen in no mood for a holiday after Hungarian GP debacle
Max Verstappen was delighted to claim a hard-fought second place at the Singapore Grand Prix on Sunday after losing then regaining the position from Sebastian Vettel in a temperamental Red Bull that suffered engine issues all weekend.
The Dutchman started on the front row next to pole-sitter Lewis Hamilton and after getting passed by Vettel on the opening lap, a perfectly timed pitstop put him back out ahead of the German and he maintained that position to the chequered flag.
"Yeah, it was not bad. A shame from the first lap, but you can clearly see we missed top speed. But from there on, the team had a great strategy so we could get back into second," Verstappen told reporters.
"Basically we did our own race, tried to follow Lewis a little bit and at the end we knew second was going to be result so you just bring it home."
Hamilton was briefly held up by back markers halfway through the race and Verstappen closed to within a car's length of the Briton but once the track cleared ahead of them, the Mercedes raced away for a comfortable victory.
"I think we maximised the result with the problems we had with the engine, which was a shame, because I was almost stalling on the track (in the early safety car period). Even my pit stop was not great," the 20-year-old added.
"I don't know which track will come up as maybe good again," he said of the high downforce Singapore circuit that his Red Bull relishes.
"Maybe Mexico a little bit but we lose a lot on the straight, so I'm not expecting it to be like last year but you never know. You always have to be positive I guess and try to be there if something happens."
Red Bull team principal Christian Horner was pleased by Verstappen's performance as well as the sixth-place finish for team mate Daniel Ricciardo.
"A fantastic drive by Max. We just got out-dragged on the way down to Turn Five (by Vettel on the opening lap, obviously he was frustrated by that but then the strategy for us worked," the Briton said.
"We managed to jump Ferrari at the stop and then we just didn't quite have Lewis's pace today. I think he just had that tenth or two in hand.
"I think strategically we were very sharp today and Max has driven the wheels off that car here all weekend so all credit to him for his drive.
"Daniel had pace in the race but we couldn't make the overcut work. Then obviously he's got the pace in the car at the end of the race but couldn't get close enough (to Valtteri Bottas and Kimi Raikkonen) to do an overtake."
Must Watch
Reshma Khatu: Taking Forward Her Father's Ganpati Idol Making Legacy
Express Eye for Detail Ep 5: Political war over Vijay Mallya, Kerala nun rape case and rising fuel prices
Asia Cup 2018: All You Need To Know
For all the latest Sports News, download Indian Express App
More Related News
Mistake-free Max Verstappen fastest in Canada
Max Verstappen sees no threat from other Renault teams
Tags:
Max Verstappen
Singapore Grand Prix
Let's block ads! (Why?)
Via:: Latest news sports – Indianexpress
You may also like...