Shivam Mavi: UP-wardly mobile pacer
By Vishal Menon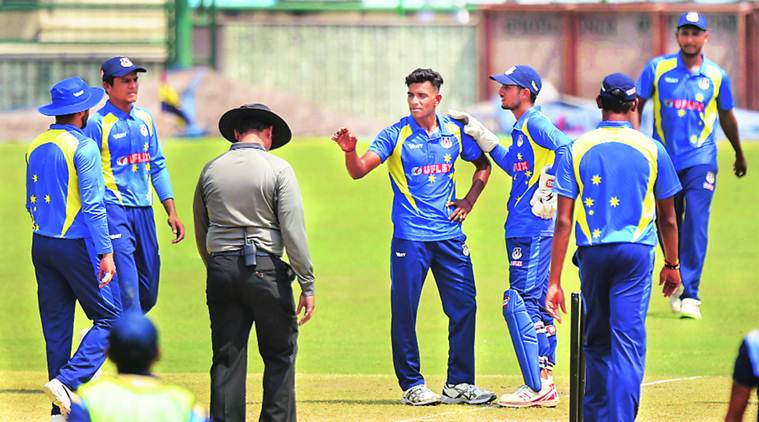 Uttar Pradesh's Shivam Mavi (L) picked up five wickets against Saurashtra at the Feroz Shah Kotla on Wednesday. (Source: PTI)
Written by Vishal Menon
| New Delhi |
Published: September 20, 2018 1:20:20 am
Uttar Pradesh's Shivam Mavi (L) picked up five wickets against Saurashtra at the Feroz Shah Kotla on Wednesday. (Source: PTI)
Related News
Fears of corruption as Puducherry cricket team fields an 'all guest' teamButterflies-in-stomach feeling: North Eastern teams begin Vijay Hazare campaignVijay Hazare Trophy: All eyes on North East teams as Indian cricket ventures into the unknown
It's been a special year for Shivam Mavi, the 19-year-old, who within 10 months has gone from just another rookie pacer to one of the brightest young fast bowlers on the horizon. After being one of the chief architects of India's historic U-19 World Cup triumph in New Zealand early this year, Mavi had gone on to justify Kolkata Knight Riders' Rs 3 crore auction day confidence in him.
On Tuesday, at the Feroz Shah Kotla, he gave further proof of his growing stature, when he became only the eighth bowler in the history of Vijay Hazare Trophy to bag a hat-trick. The Uttar Pradesh bowler achieved this in only his second List-A fixture, against Saurashtra. His feat came in his final over, when he polished off Chirag Jani, Arpit Vasavda and Jaydev Unadkat, to finish with figures of 5/73 in 10 overs. His efforts would ultimately go in vain as Saurashtra, rode on the back of a stunning century from their opener Sheldon Jackson, to register a 25-run win over Suresh Raina's team.
The Mavi story had an interesting start. It began on a warm March afternoon in 2017 at the Greater Noida Stadium with Afghanistan's coach Lalchand Rajput looking for a net bowler. Rajput called his friend Phoolchand Sharma, who runs an academy in Noida Sector-34. "Mujhe ek nets bowler chahiye. Lekin, ladka tez hona chahiye."
Sharma suggests the name of Mavi, who has been training under his watchful eyes for close to a decade. "Shivam ko bhejta hoon, bahut honhaar ladka hain," he quips. Over the next four weeks, he would be a regular at the nets, hustling the Afghans with pace and nip. "When I saw him at first, I was not sure about him to be honest. He was well-built, but I did not expect him to be this lively. Some of our batsmen were surprised by the pace he was generating," Rajput observes.
Despite Sharma's exploits, Mavi's childhood coach had no inkling he would make it as a fast bowler, when he first met him, more than a decade ago. Dressed in whites, 9-year-old Mavi would take those tentative steps to his academy — Noida's Wanderers Cricket Club. The reticent kid would need his father Pankaj's cajoling before he could muster courage to say 'Namaste sir' to greet his would-be-coach.
"His father handed me his son and said: Cricket khelna chahta hain. Iski dekh-bhaal kar lo." Sharma gave him time to get into his groove. Thankfully for Mavi, help came from seniors like Anureet Singh and Pradeep Sangwan. By the time, he was 13, he would represent Delhi at the U-14 level. "When I first saw him, I never thought he had it in him to make it as a fast bowler. Mere yahan parents aate hain aur kehte hain ki mere baccho ko cricket sikhao. But not everyone makes it to the next level," Sharma explains.
Most, who had enrolled at his academy, saw the game merely as a recreational exercise, but Mavi was consumed by the desire to become a fast bowler by the time he was 10. A desire that took shape after watching Dale Steyn on television. "He is a die-hard Dale Steyn fan, and I think that's the reason why he wanted to bowl fast," Sharma reminisces.
Having Anureet and Sangwan by his side would only fuel his deep-rooted ambition. "He was an exceptionally motivated youngster, and asked me a lot of questions and sought my inputs. He was fiercely determined and was always keen to improve," Anureet Singh says. Despite the early promise, Mavi's progression through junior cricket was not a smooth ride. Breaking into the Delhi team proved to be difficult. After waiting on the fringes for nearly two years, Sharma urged his ward to try his luck with neighbouring Uttar Pradesh's U-19 squad. He passed the trials and was immediately drafted into the mix.
Six months later, Mavi was then selected to represent the Board's President's XI against England's U-19 team in a warm-up game at Bengaluru. This trip would change his life forever. His sharp, incisive bowling in that game caught the eye of Rahul Dravid, India's youth coach, who had come to watch that game as part of a recce trip to take stock of the bowling reserves in the run-up to the 2018 U-19 World Cup.
Mavi has not looked back since, going from strength to strength, to turn into one of Dravid's go-to men. His exploits at the Kotla today caps a pretty stunning story, from a nondescript net bowler to bagging a hat-trick in only his second List-A match.
Brief Scores: Saurashtra 303/9 (Sheldon Jackson 107, Robin Uthappa 97, Cheteshwar Pujara 31, Ravindra Jadeja 14, Shivam Mavi 5/73). UP 278 in 49.1 overs (Akshdeep Nath 62, Ravindra Jadeja 0/62, Jaydev Unadkat 3/42, Dharmendra Jadeja 3/48). Saurashtra won by 25 runs.
Confusion over Delhi jerseys
Ahead of their Vijay Hazare opener against Saurashtra, there was confusion within the Delhi team — apparently over the colour of the jersey.
The set that arrived on Tuesday afternoon was emblazoned with the DDCA logo and a splash of bright red. The issue, however, was with the white coloured half-sleeves. In principle, teams generally avoid using the colour white in their jerseys for such List-A tournaments, as it would hinder players from sighting the white ball properly.
It's learnt that the team management has asked for a fresh lot, with a change of colour, to be sent by tomorrow morning. If that does not arrive, the team will don the dark blue practice jersey for their opening match.
"There was some confusion over Read More…
Via:: Latest news sports – Indianexpress
You may also like...