Ranji Trophy 2017 Final: Rajneesh Gurbani bends it in, Delhi hobble out
By Sriram Veera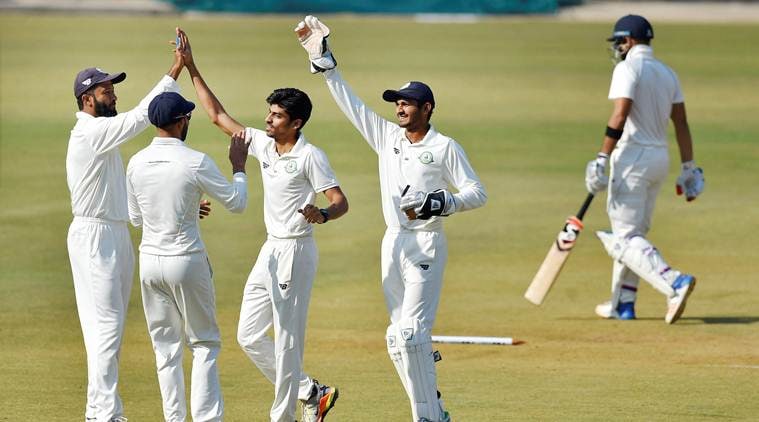 Written by Sriram Veera
| Indore |
Published: December 31, 2017 12:43 am Rajneesh Gurbani (centre) celebrates after claiming a hat-trick against Delhi on Day 2 of the Ranji Trophy final at Indore. (Source: PTI)
Couple of years ago, a slightly perturbed Rajneesh Gurbani walked across to interrupt his coach Prashant Bambal who was in conversation with Siddesh Neral, the fast bowler. "Sir, aap sirf ek hi bacche ko India khilagoe kya, baaki bache mey dyaan nahi doge? (You will train just one kid to become India player?) Amused by this uncharacteristic intervention from "shaant" Gurbani, Bambal replied, "Why? Do you want to play for India?" Yes sir. "Phir, you have to work a lot harder. Give more time. Are you ready?" Bambal laughs as he narrates the episode, and Gurbani smiles shyly when you mention it to him. "I was busy with academics in engineering college, I played a lot of sports but obviously not as much quality time as my coach would have liked. From that day on, I would speak everyday with him after training, assess my work, constantly tried to improve."
It was the trigger for the sensational inswinger that fetched him a hat-trick, which hustled out Delhi for 295 — the last four wickets fell in two overs and costed just five runs. It set up the game for Wasim Jaffer and Faiz Fazal to take Vidarbha to 206 for 4.
Gurbani was a natural outswing bowler but Bambal felt that he must add the one that came in. "Beta, andar leke aana padega, else just one trick can't help you at next level." So they started to clock the hours: First the wrist was locked for the release, fingers trained to slip down on the seam — just stand near the stumps, and release. Next came the run-up. It was still a work in progress at the start of the season, though as the boy had the tendency to fall over with the inswingers.
Gurbani recalls Chandrakant Pandit, Vidarbha's coach, calling him and Subroto Banerjee, the former India bowler who coaches the bowlers, to say, "Subu, I want the boy to bowl the inswinger on demand. Train karna." And so Banerjee went to work. More specialised drills began, and the ball started to come out well. Delhi batsmen would attest to it. Even before the hat-trick, he was harassing them by bending the ball back in the air, and getting it to skid in quickly. The dam then burst open with a sharp bend-backer from well outside off that ripped through the defences of Vishal Mishra. Next one, last ball of the over, curved in air and seamed off the pitch to take out the middle stump. By the time he walked to the start of his run up in his next over, the possibility of hat-trick hadn't kicked in yet. A voice erupted from the crowd about the hat-trick; "Only then I realised about it." This wouldn't be easy, though, for it was the centurion Dhruv Shorey on strike. The ball whooshed in through the air, shot off the pitch and left Shorey a startled spectator as it crashed on his pad and fell on the off stump.
Delhi's back was broken, and Faiz Fazal turned in a compact 67, and the man who loves to bat and bat, Jaffer ensured Vidarbha would finish the day on a high with an unbeaten 61. Much rests now on Jaffer but without Gurbani, Vidarbha wouldn't have found themselves in this position of strength.
***
A thin wiry lad who lacks the presence associated with a fast bowler has always had to rely on his skill to make people notice him. Bambal remembers the first time he saw Gurbani. Another coach, who had conducted a summer camp for Railways, said he was very impressed by the 16-year-old boy and asked him to have a look. "He came to my academy, and I thought, he doesn't even look like a fast bowler'. Thin body mey koi dum nahi, but I told him to bowl. Soon, I realised what the other coach was saying. I usually start working with boys when they are 12,13, but I said yes to him and his father," Bambal says. He remembers a boy who was academically good, and a father who had great interest in the game but fretted about his future in it. "I would tell him that the boy is talented, let him study as you wish but also continue with the game."
It was during that period that Amit Anurag, the head of physical department at Ramdeobaba College of Engineering and Management, ran into a shy Bambal. At St. Mary's school in Mumbai, Gurbani was known for his athletic prowess and ability to play all sports. But it was a fresh start at the Nagpur college. Again, the first impression wasn't great. "He hardly looked an athlete you know, and I thought chalo lets see what he does," Anurag says.
It didn't take long to change opinions. Forget the bowling, Gurbani was an excellent badminton player, good in tennis, and very good runner. "I won a gold medal in university 4×100 relay, you know" Gurbani pipes up. "Our Civil Enginnering department hadn't won anything in 12 years, and suddenly we were winning everything. He was the captain in most sports," says Anurag. The college began to earn a name in sports in Nagpur, and beyond it, in those years. The boy was still shy though. Anurag remembers even getting annoyed once at it, and giving a stern talk to open up. By the end of the college years, though, Gurbani was popular with boys from all other departments.
***
"Now that I have tasted this success, cricket hi sab kuch hai. I want to play for India," he says. The turning point of his life came couple of years ago when he was selected for Syed Mushtaq Ali tournament. "It was then it hit me that people think that I have potential. That I can play cricket at Read More…
Via:: Latest news sports – Indianexpress