No better representative of women entrepreneurs in US than Ivanka to attend GES 2017: US state dept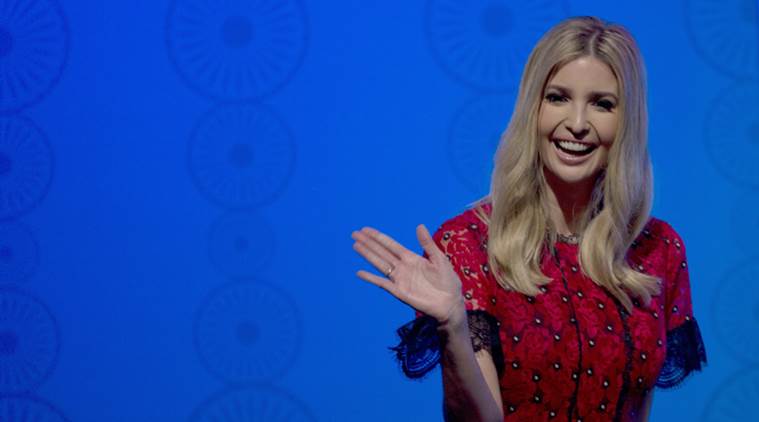 By: Express Web Desk | New Delhi |
Published: November 30, 2017 11:09 am US presidential adviser Ivanka Trump greets during a panel discussion at the Global Entrepreneurship Summit in Hyderabad, India (AP Photo)
Referring to Ivanka Trump's recently concluded India visit during the Global Entrepreneurship Summit (GES) 2017, the spokesperson for the United States Department of State, Heather Nauert Thursday said there was "no better representative of a woman entrepreneur in the US than her (Ivanka) to go over there."
At a press conference in Washington, Nauert said, "I am so proud that the US and India held the global entrepreneurship summit in Hyderabad… I think it's a tremendous success when we bring in 1500 entrepreneurs from around the world. We are also proud that Ivanka Trump, President Donald Trump's daughter and one of his most trusted and closest adviser, led the US delegation over there. I, personally, think of no better representative of a woman entrepreneur in the US than her to go over there," ANI reported.
Her comments come at a time when certain sections of media have questioned whether her message of empowering poor women match her actions. Critics have pointed out how she has failed to take a public stand in calling out labour and human right abuses, particularly in China, where the bulk of her US merchandise ships from.
"Having equal gender representation is a financial positive to businesses today, besides being a social responsibility. Women need access to capital. Diversity aids business and businesses should take the responsibility of balancing the gender gap in the labour force. Technology offers tremendous opportunity to women and women entrepreneurs. Men need to acknowledge that women face obstacles and should do their part in easing the situation. Workforce culture needs a fundamental change since the traditional concept of single parent provider at homes is long gone," Ivanka, who was personally invited by PM Modi for the summit in Hyderabad said.
President Donald Trump had also applauded Ivanka for encouraging women workforce during the summit. Taking to Twitter, he said, "Great work Ivanka." Appreciating Ivanka's efforts, US Ambassador to the United Nations Nikki Haley said, "Thrilled to see @IvankaTrump in India promoting female entrepreneurs. At home, that means improving workforce development and cutting govt red tape. Globally it means creating an environment where women – across the world – have access to the capital & mentorship they need to succeed."
Great work Ivanka! http://t.co/AQL4JLvnDh
— Donald J. Trump (@realDonaldTrump) November 29, 2017
The three-day summit, which is being hosted for the first time in South East Asia, began in Hyderabad on Monday.
(With inputs from agencies)
For all the latest World News, download Indian Express App
© IE Online Media Services Pvt Ltd
Let's block ads! (Why?)
Via:: World news – indianexpress