My career should have stopped after Phil Hughes died, says Michael Clarke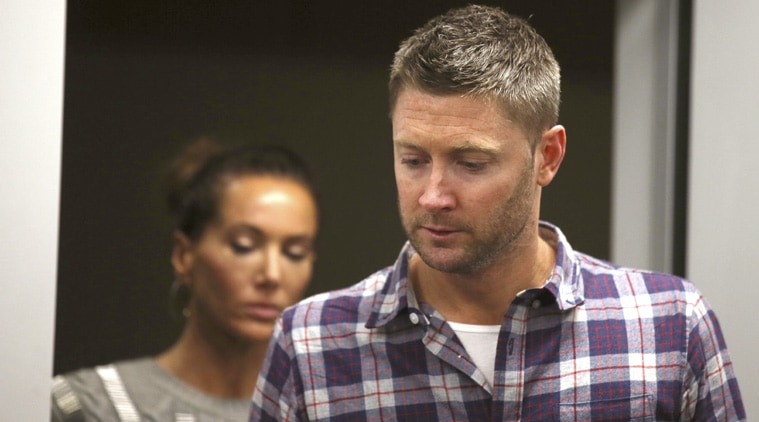 By: Express Web Desk | Sydney |
Published: November 30, 2017 10:47 pm Michael Clarke was a pallbrear at Phil Hughes funeral.
Phil Hughes death affected him badly and he struggled after losing his fried and teammate, former Australia captain Michael Clarke has revealed. Hughes died in 2014 while Clarke quit cricket in 2015. Clarke has played 115 Tests and his final one was against England in the Ashes series.
Hughes was hit behind the head by a cricket ball during a Sheffield Shield match at the Sydney Cricket Ground in November 2014. He died a few days later in the hospital.
"I shouldn't have played another game. My career should have stopped then. It was too hard for me," Clarke was quoted as saying by AFP. "It took me a lot longer to grieve his loss than it should have, or that I would have liked.
"I didn't allow myself to grieve at the time because I had responsibility to his family, firstly, but then also as Australia's cricket captain to my teammates and getting us back out onto the field."
Clarke said that he felt touring West Indies in 2015 was a mistake. He was a pallbearer at Hughes' funeral and also delivered an eulogy to his "little brother". Clarke also said that he felt fear at the cricket pitch after Hughes' death.
"Going to the West Indies was probably the worst tour of my life in regards to how emotional I was," he said. "I was there on my own. Unfortunately Kyly (his wife) couldn't come because she was pregnant and we weren't comfortable with her flying.
"I had six weeks in the West Indies … whatever we had on as a team during the day I would go back to my room every night and just cry myself to sleep."
"I still have days regularly where it's heart-breaking. It's still raw … the emotion and pain is still there."
For all the latest Sports News, download Indian Express App
© IE Online Media Services Pvt Ltd
Let's block ads! (Why?)
Via:: Latest news sports – Indianexpress