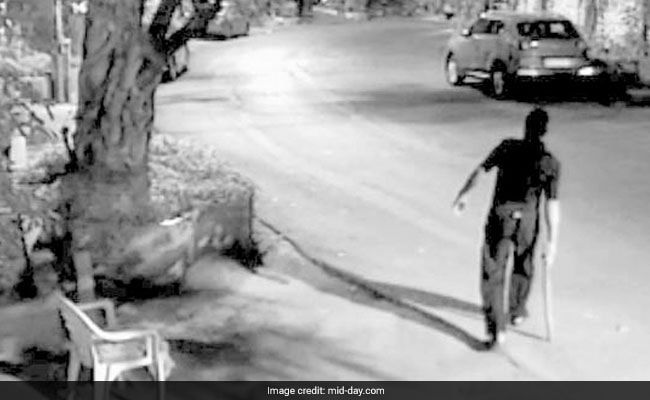 When a leopard paid a visit to 'Dream Girl' Hema Malini's colony in Goregaon East in the wee hours of Thursday, it nearly turned into the forest department's worst nightmare. While the leopard caused no harm or damage, CCTV footage shows an overzealous watchman running after the big cat with a lathi in hand – a big no-no in cases of leopard sightings.
According to the forest department, chasing or cornering a leopard can provoke the animal into attacking. Santosh Kank, range forest officer (Mumbai), has instructed his team to patrol the area and inform the residents and staffers about the dos and don'ts during a leopard sighting.
Not the first time
This is not the first time the residents of Yashodham Hill Top have received leopard visitors. In 2011, mid-day had reported how a leopard showed up at Hema's bungalow but escaped into the nearby jungle before the forest department arrived on the scene. It is suspected that the leopards come from the nearby forest inside Aarey Milk Colony.
Thursday's leopard sighting was captured by a CCTV camera installed near the gate of one of the bungalows. The CCTV footage shows the leopard leaping across the wall of one of the bungalows. The watchman, who was sitting nearby first ran towards the wall to see where the leopard disappeared, and then returned with a lathi in hand to scare the leopard away.
Resident speak
Speaking to mid-day, Swadesh Khetawat, one of the bungalow owners, said, "This is not the first time that a leopard has been spotted in our area. Around a month ago, another leopard was spotted. A few years ago, a leopard was spotted near Hema Malini's bungalow as well. We are not at all scared, but have asked the night watchmen to make sure that they don't step out of the security cabin alone."The locals have already informed the forest department and are taking all the necessary precautions to prevent future incidents. Dr Jitendra Ramgaonkar, Deputy Conservator of Forest from Thane Forest Department (Territorial), said, "Our officials have already been instructed to patrol the area. Leopards can enter human territory by mistake, and we would like to request people to immediately contact us if they spot one in their locality. People should not corner or provoke the animal, as this can lead to man-animal conflict."
(This story has not been edited by NDTV staff and is auto-generated from a syndicated feed.)
Let's block ads! (Why?)
Via:: Indian cities – NDTV