Kidambi Srikanth, PV Sindhu qualify for Superseries Finals in Dubai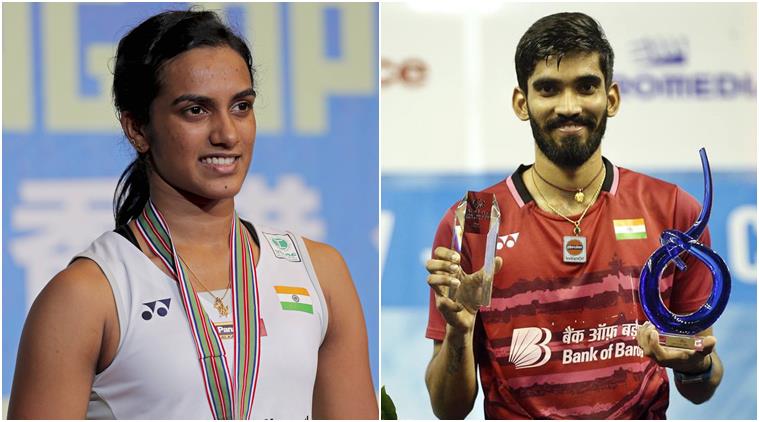 By: Express Web Desk |
Published: November 30, 2017 4:48 pm PV Sindhu and Kidambi Srikanth qualify for Superseries final in Dubai. (Source: AP)
Kidambi Srikanth and PV Sindhu are the only two Indian shuttlers who managed to qualify for the Superseries Finals in Dubai, which is the year-end finale for top eight shuttlers around the world.
Srikanth won four Superseries titles this year – Indonesia, Australia, Denmark and France. Sindhu also continued her fine run this year, winning two Super Series titles and a Grand Prix Gold event. She also picked up her third World Championship medal, earning a silver after an epic 110-minute final against Nozomi Okuhara of Japan. The results took her to as high as world no 2, the same rank Srikanth had achieved after his wins.
The pair, however, have since dropped a spot. While Srikanth's ranking came down due to him skipping the Super Series in China and Hong Kong, Sindhu, who got her name on the title in two Super Series events this year, fought against Tai Tzu Ying in the Hong Kong Super Series final.
Here is the list of players to have qualified for Superseries Finals in Dubai:
Men's singles:
1. Son Wan Ho (South Korea)
2. Kidambi Srikanth (India)
3. Shi Yuqi (China)
4. Lee Chong Wei (Malaysia)
5. Chou Tien Chen (Chinese Taipei)
6. Ng Ka Long (Hong Kong)
7. Chen Long (China)
8. Viktor Axelsen (Denmark)
Women's singles:
1. Akane Yamaguchi (Japan)
2. Tai Tzu Ying (Chinese Taipei)
3. Sung Ji Hyun (South Korea)
4. Pusarla V Sindhu (India)
5. Ratchanok Intanon (Thailand)
6. Carolina Marin (Spain)
7. He Bingjiao (China)
8. Nozomi Okuhara (Japan)
Men's doubles:
1. Marcus Fernaldi Gideon/Kevin Sanjaya Sukamuljo (Indonesia)
2. Mathias Boe/Carsten Mogensen (Denmark)
3. Li Junhui/Liu Yuchen (China)
4. Liu Cheng/Zhang Nan (China)
5. Takeshi Kamura/Keigo Sonoda (Japan)
6. Mads Conrad-Petersen/Mads Pieler Kolding (Denmark)
7. Lee Jhe-Huei/Lee Yang (Chinese Taipei)
8. Takuro Hoki/Yugo Kobayashi (Japan)
Women's doubles:
1. Shiho Tanaka/Koharu Yonemoto (Japan)
2. Yuki Fukushima/Sayaka Hirota (Japan)
3. Chen Qingchen/Jia Yifan (China)
4. Christinna Pedersen/Kamilla Rytter Juhl (Denmark)
5. Chang Ye Na/Lee So Hee (South Korea)
6. Jung Kyung Eun/Shin Seung Chan (South Korea)
7. Yu Xiaohan/Huang Yaqiong (China)
8. Hsu Ya Ching/Wu Ti Jung (Chinese Taipei)
Mixed Doubles:
1. Zheng Siwei/Chen Qingchen (China)
2. Lu Kai/Huang Yaqiong (China)
3. Tontowi Ahmad/Liliyana Natsir (Indonesia)
4. Tang Chun Man/Tse Ying Suet (Hong Kong)
5. Praveen Jordan/Debby Susanto (Indonesia)
6. Chris Adcock/Gabrielle Adcock (England)
7. Tan Kian Meng/Lai Pei Jing (Malaysia)
8. Kenta Kazuno/Ayane Kurihara (Japan)
For all the latest Sports News, download Indian Express App
© IE Online Media Services Pvt Ltd
Let's block ads! (Why?)
Via:: Latest news sports – Indianexpress