India vs South Africa: Hardik Pandya is nowhere near Kapil Dev, says Karsan Ghavri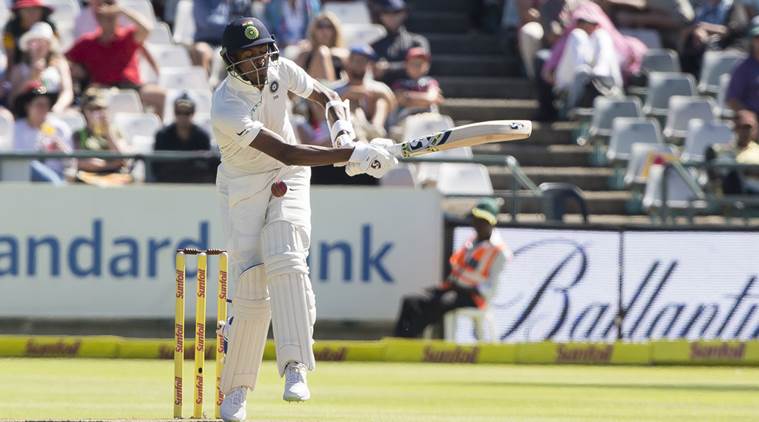 By: Express Web Desk |
Published: January 12, 2018 8:11 pm Hardik Pandya impressed with his allround performance in the first Test in Cape Town. (AP)
If Indian batsman expected a tough challenge in overseas conditions in Cape Town, the dangerous South African fast bowling line-up comprising of Dale Steyn, Vernon Philander, Morne Morkel and Kagiso Rabada, made it even more difficult for them. After the Indian bowlers bowled out Proteas for a total of 286 runs in the first innings, the visitors failed to deliver with the bat and kept losing wickets at regular intervals. At one stage, the Virat Kohli-led side found themselves in a spot of bother, reeling at 92 for 7. But a lone battle from Hardik Pandya, who scored 93 runs in 95 balls, kept them in the hunt and saved India from embarrassment.
But in spite of his allrounder performance in Cape Town, former Indian bowler Karsan Ghavri said that the 24-year old is still far away from being compared to 1983 World Cup-winning Indian captain Kapil Dev. "He (Kapil) is being so modest to say — I read in the newspaper — that Hardik Pandya is a better all-rounder than him. In my view Hardik Pandya is nowhere near Kapil Dev," the former left-arm seamer said.
Speaking at a programme organised by the Legends club to mark Kapil Dev's 59th birth anniversary at the Cricket Club of India in Mumbai, Ghavri said that there is a still a long way for Pandya to go to reach Kapil Dev's level. "And even if he has to reach there, he has got a long long way to go. It's a very difficult comparison, but (Hardik) he is nowhere near Kapil Dev right now," he said.
The 66-year-old added that only time will tell if Pandya can ever match-up to him. "Time will tell how far he (Hardik) can reach close to Kapil's achievement or whatever Kapil has done and the time will tell you everything," he said.
Speaking on India's performance in Cape Town, Ghavri praised the bowling unit but added that the batsmen let the side down. "We bowled extremely well in both the innings. Bowlers have done a beautiful job in the first Test match and it is only the batsmen, who have let us down. And if we really need to improve from the second and the third Test onwards, every batsman has to take a lot of responsibility and plan out their innings and you need to have lot of runs on the board to fight, you got to give something to your bowlers and if you don't do that, then the result will be different altogether," he said.
For all the latest Sports News, download Indian Express App
© IE Online Media Services Pvt Ltd
Let's block ads! (Why?)
Via:: Latest news sports – Indianexpress