India vs England: We're thinking of nothing else but to go 2-1 in the series, says Virat Kohli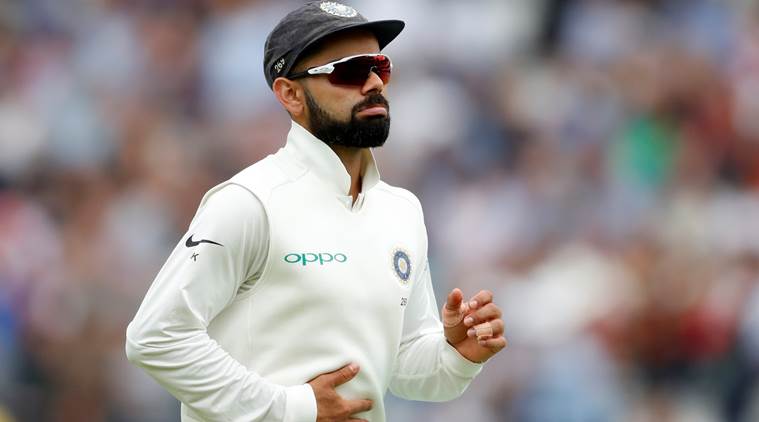 By: Sports Desk |
Published: August 13, 2018 10:25:33 am
According to Virat Kohli, the key to success is building partnerships throughout the innings. (Source: Reuters)
Related News
India vs England 2nd Test stats: India's biggest defeat at Lord's since 1974India vs England 2018: Bad back will be proverbial last strawIndia vs England 2nd Test: Insult and injury as India lose Lord's Test
India captain Virat Kohli has urged his teammates to learn from their mistakes in the recently concluded Lord's Test match and focus on changing the series scoreline to 2-1. India suffered a demoralising defeat on the fourth day at Lord's on Sunday when they were bowled out for 130 to lose the Test by an innings-and-159-runs. The Indian captain was in no mood to crib about conditions and instead called upon his batsmen to shoulder the responsibility in the third Test match.
"People are saying that we batted in overcast conditions … if we dwell on those things, we'll be unable to plan," Kohli said during the post-match press conference. We can't think about what could have happened in the game because we have to correct our mistakes. We have no option other than that."
READ: India's biggest defeat at Lord's since 1974
"For a sportsman, it's important that if we make mistakes we ensure they're corrected, and as a team, we'll look to focus on that. The fact is we didn't play good cricket in this match. Batting wasn't good. As for bowling, we began well but were unable to hit areas consistently. We could have done a lot better with both bat and ball," Kohli was quoted as saying by icc.com
Admitting to mistakes both on and off the field the Indian captain said, "We have to accept the mistakes, learn from them, put them aside, make sure we're not thinking about the same mistakes again, rather get confident and not repeat those again," he stressed. "We're thinking of nothing else but to go 2-1 in the series, and from thereon build on that strongly. This is the first time in the last five Tests we've been really outplayed … we've competed in every game."
"We know that we do have the bowling attack to pick up 20 wickets and as batsmen, we should think of that as an opportunity to score runs and make the team win games. What is sad is that we haven't had those two skills come together," he added.
ALSO READ: Bad back will be proverbial last straw
In conditions ideal for swing and seam, India was bowled out for 107 and 130 in the two innings respectively. According to Kohli, the key to success in such situations is building partnerships throughout the innings, something India simply could not conjure.
"When you're out there in a situation that is tough, you have to find ways to counter the situation, which I think we've failed to do as batsmen, myself included, in this game. We haven't been able to have partnerships in this game, which is the basic rule of batting. Only 50 (partnership) with Hardik (Pandya) and Ash (Ravichandran Ashwin), nothing of any substance before or after that. That's what we need to work on, to build partnerships and put the team in a strong position," Kohli said.
India captain Virat Kohli receives treatment for a back injury during Day Four at Lord's on Sunday. (Source: Reuters)
Kohli's recurring back problem is yet another concern in the Indian camp. But the Indian captain revealed that he will most likely be ready for Nottingham Test.
"As of yesterday and today, it wasn't great. Back is one thing that can be really tricky. It happened during the last leg of the South Africa tour when I missed a T20 game. The good thing is I have five days before the next Test. "We're confident, with rehab and strengthening, I should be ready for the next game although not with the same intensity on the field, but I should be able to hold a position in the field and be 100 percent with the bat. I think five days is good enough to be better for the next game," he concluded.
Must Watch
Floods and landslides in Kerala after southwest monsoon wreaks havoc
Samsung Galaxy Note 9 launched: S Pen, battery are the big changes
5 Reasons To Watch Vishwaroopam 2
Start your day the best way with the Express Morning Briefing
For all the latest Sports News, download Indian Express App
© IE Online Media Services Pvt Ltd
More Related News
Twitterati slam India for their 'lack of fight' against England at Lord's
India vs England: Won't crib about not having the best of conditions, says Virat Kohli
Tags:
India Tour of England 2018
Virat Kohli
Let's block ads! (Why?)
Via:: Latest news sports – Indianexpress