Champions League: Why Atletico Madrid should not be content with 1-0 scoreline against Leicester City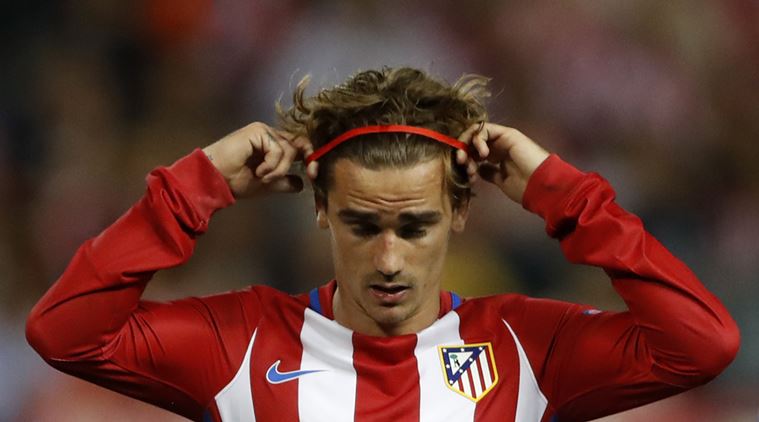 Written by Natasha Singh
|
Updated: April 13, 2017 4:15 pm Atletico Madrid's Antoine Griezmann scored the only goal of the match against Leicester City (Source: Reuters)
Atletico Madrid won the first leg of the Champions League quarterfinal by beating Leicester City 1-0 at home. Entering the game as favourites, Atletico had the home ground to their advantage. However, they were restricted by the English side to just one goal, which again was a controversial penalty taken by Antoine Griezmann in the 28th minute.
The referee judged Marc Albrighton's foul on Antoine Griezmann inside the penalty area. But it did seem like the contact was made outside the box. The Frenchman taking full advantage of the opportunity sent the Leicester goalkeeper Kasper Schmeichel the wrong way and scored his fifth goal of this seasons Champions league.
Atletico have not conceded a goal at home in a knockout tie in the competition since March 2014. However they were unable to turn the home advantage into a bigger scoreline despite facing a side that was only one point away from relegation a few months back in the Premier League. The resolute Leicester defence proved a bit too strong last night.
Despite dominating the game and holding the possession for most of it, the Spanish side could not extend their lead. Even coach Diego Simeone said at the post-match press conference that he would have preferred a bigger scoreline going into the next leg. He said, "It is clear we would have preferred a bigger scoreline. We knew we were playing a team who knew what they were doing and what they wanted. That is what we expected in the game."
Two time finalists Atletico Madrid should be unhappy for failing to convert the opportunities presented during the game., especially after what happened to Sevilla in the last round. Once, Saul Niguez and Koke came very close but both ended up hitting the post.
Veteran Fernando Torres is also not in his best form this season. He slipped in the second half right before what could have been the second goal for the Spanish side.
Hence, Atletico will surely have to step up their game when they visit the King Power Stadium next week if they want to proceed further in the Champions League.
For all the latest Sports News, download Indian Express App now
© IE Online Media Services Pvt Ltd
Let's block ads! (Why?)
Via:: Latest news sports – Indianexpress