At SAFF Championship, India go south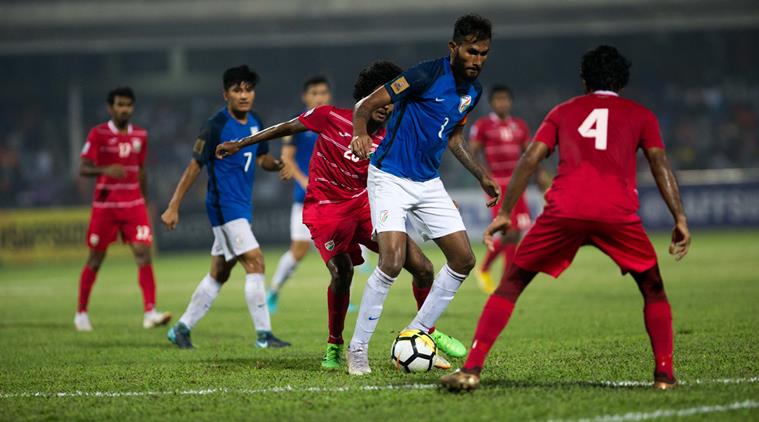 The Maldives government declared Tuesday to be a public holiday.
Written by Mihir Vasavda
| New Delhi |
Published: September 17, 2018 12:52:34 am
The Maldives government declared Tuesday to be a public holiday.
Related News
Manvir Singh's brace against Pakistan takes India to SAFF Cup finalIndia vs Pakistan, SAFF Championships semifinals Highlights: India beat Pakistan 3-1Bhutia's replacements a long way from goal
"AIFF Tours and Travels Limited."
A few days ago, a Twitter user made this tongue-in-cheek jibe on the All India Football Federation's (AIFF) new-found obsession with exposure tours. To be fair, some of them have made total sense, especially a few involving the under-16 and under-19 sides. But this one, which triggered the 'tours and travels' remark, was bizarre even by the AIFF's standards.
To prepare for the South Asian Football Federation (SAFF) Championship in Dhaka, the AIFF dispatched the national team to Sydney seemingly without much of a plan. After reaching there, they hastily arranged some practice matches. First up were APIA Leichhardt Tigers FC, a semi-professional club formed by Italian-Australians that plays in a provincial league. This was followed by a match against Australian League side Sydney FC, which India lost 3-0. A 4-0 win over Rydalmere Lions FC – a club that plays in the second tier of the New South Wales league – concluded the tour.
The farcical two-week 'exposure' was exposed on Sunday, when India lost to Maldives in the final 2-1. South Asia is perhaps the weakest zone in world football – so poor that Afghanistan moved to Central Asian zone to get more competitive matches. India, at 96, are the highest-ranked team in this region. The six others are placed 150 (Maldives), 161 (Nepal), 183 (Bhutan), 194 (Bangladesh), 200 (Sri Lanka) and 201 (Pakistan) in the world. And India are not the best among them. Let that sink in.
Stephen Constantine was so sure of his team's supremacy in South Asia that, although others came with full-strength senior squads, he chose a squad comprising the best under-23 players from the country, and Sumit Passi, who turned 24 during the tournament. Passi's selection has always attracted controversy but focusing only on him would be missing the bigger picture.
This was, supposedly, the cream of India's under-23 talent. Anirudh Thapa, of whom so much is expected, flopped when it mattered. Thapa, just 20, was named the emerging player of the year by the AIFF this July. The central midfielder, who plays for Chennaiyin FC, is one of the most creative players in the country, but against minnows Maldives, he could hardly assert himself as India chose to play long, aerial balls without really bothering to check if it reached the target.
Left-back Subhashish Bose, who was recently signed by Mumbai City from Bengaluru for an undisclosed amount, spent most of the time in the final covering up for the two centre-backs while goalkeeper Vishal Kaith showed inexperience in crunch situations, which led to Maldives scoring with the few chances they had. Ashique Kuruniyan, Nikhil Poojary and Manvir Singh are some other players from the squad who are touted to form the core of the national team going forward. The collective performances in Dhaka has left that claim in tatters.
Overestimating the standard
It also severely dents the narrative built by the AIFF that the performances of the national team have improved. In truth, save for a few matches where India indeed did well in pressure situations, the ranking and results massively overestimates the actual standard of the national team, which isn't as good as the AIFF makes it out to be. The match against an under-strength New Zealand in June's Intercontinental Cup, which India lost 2-1, is a case in point.
In 12 days' time, some of these players will once again be in the limelight when the ISL kicks-off. It is feared most will just warm the bench, as they have till now and something which Constantine has repeatedly moaned about. The performances of those who do get game time will be glossed over by the international players.
Constantine's hoof-and-hope strategy has drawn a lot of criticism, but for a bunch that takes two, sometimes three, touches to get ball under control, one wonders if anything else would work. Some of these players, in fact, are used to playing possession-based football for their clubs in the ISL, but there they play alongside technically superior foreigners, who control the play.
Constantine had said before the final that some of these players had it in them to make the cut for Asian Cup. Whether he still feels the same way, only he knows. But he will hope that a Sunil-and-Gurpreet show, which is what the national team is mostly about, will save India of more embarrassment in January.
On Sunday, the Maldives government declared Tuesday as a public holiday to celebrate the win over India. The AIFF Tours and Travels Limited, meanwhile, will chug on to its next destination: China, in less than a month.
Must Watch
Reshma Khatu: Taking Forward Her Father's Ganpati Idol Making Legacy
Express Eye for Detail Ep 5: Political war over Vijay Mallya, Kerala nun rape case and rising fuel prices
Asia Cup 2018: All You Need To Know
For all the latest Sports News, download Indian Express App
More Related News
A reform that changed Nepal's football fate
Afghanistan lose cool,SAFF title
Tags:
SAFF Championships
Let's block ads! (Why?)
Via:: Latest news sports – Indianexpress
You may also like...