All in a year's work: Looking back at 2017 through Sports glasses
By Sandip G, Gaurav Bhatt, Shivani Naik, Mihir Vasavda, Bharat Sundaresan, Sriram Veera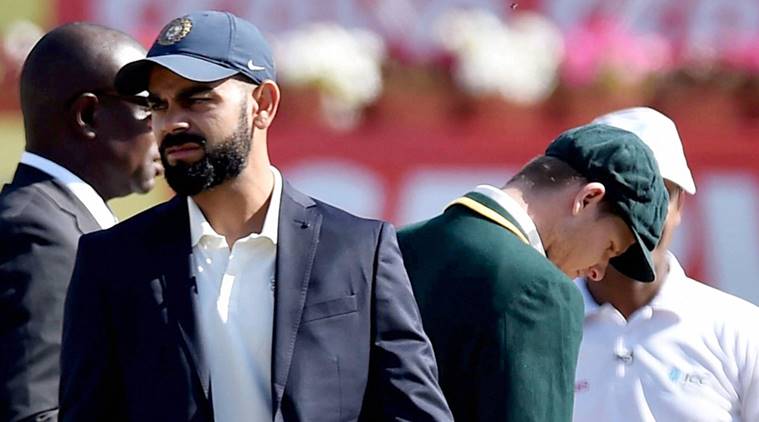 Written by Sandip G
, Gaurav Bhatt
, Shivani Naik
|
Published: December 31, 2017 1:37 am Before the series, India skipper Virat Kohli had spoken glowingly of his friendship with the Australians, but after the series ended he admitted his relationship with them was permanently fractured. (Source: PTI)
Brain fades, bad blood and broken arrows
By Sandip G
His arms curled up, like a street fighter ready to throw punches, Virat Kohli scowled at Steve Smith, his Australian counterpart who seemed to gaze towards the dressing room after being adjudged lbw to Umesh Yadav in a nervy chase of 188 in Bangalore. Umpire Nigel Llong's timely intervention prevented an on-field fist-fight, but Kohli had saved his words and thoughts for the press conference later in the day.
He stopped short of invoking the famous quotes of his then coach Anil Kumble — that only one team played in the spirit of the game — after the Sydney Test of 2008, but implied that the Australians were cheating, bringing up prior instances of the batsmen consulting the dressing room, a blatant breach of the DRS protocol. Smith's batting partner then, Peter Handscomb owned up to the crime, confiding that it was a "brain fade". But Kohli was in no bend of mind to forgive, or forget, and suddenly, the series blew up the artificial veneer of good-naturedness it had till then woven around it.
The antipathy bubbled into the Ranchi Test, in the build-up to which both skippers made veiled verbal tirades at each other, though the surface-from-Mars strips offered a passing distraction. But it all turned for the worse, when Glenn Maxwell, after saving a boundary, clutched at his left-shoulder, impersonating Kohli, who had hurt his shoulder while trying to save a boundary. Later, Smith too was accused of the same upon Kohli's dismissal. Though Smith denied it—Handscomb again the culprit—Kohli was intent on reciprocating in kind. Soon after David Warner perished, Kohli grabbed his shoulder, his face awkwardly contorted, and frenziedly ran around his teammates. Smith wasn't spared a verbal barrage when he batted either.
Though Kohli missed the decisive Dharamsala Test, the fractiousness simmered on, flaring up after the BCCI aired on-field exchanges between R Jadeja and Matthew Wade through a video clip on its website, in which umpire Ian Gould could be heard trying to intervene.
After the series, Smith apologised for his (at times) puerile behaviour. "I have let my emotions and actions just falter a little bit throughout this series and I apologise for that," he said. But Kohli wouldn't buy that, and stated in as many words that his relationship with certain Australian players were as good as over.
The episode seemed to be buried then and there, but Smith dug it up in his autobiography The Journey, in which he claimed that the DRS fiasco was Kohli's conjecture. He also wrote that Kohli had mellowed down the next time they met, during the IPL. "He was friendly and it was as if any ill-feeling he may have had over the incident had disappeared," he recollected. But expect more of the same, when India tours Australia later this year.
'Only poor people play sir …'
By Sriram Veera
Suddenly, Mina started sobbing. Behind her stood her mother, jaws tightening, an eerie stoniness on the face as she let her daughter cry out. Mina, the sister of teenaged footballer Ninthoinganba Meitei, was talking about her father who had succumbed to cancer in July, and how her family is now dependent on her brother making it big in Indian football.
A small thatched hut, her father's portrait hung on the wall, a cowherder whose cows were sold off in efforts to save him – a family's life derailed and now hung on the boots of a teenager. Poverty exists across the country but in Manipur it's situated in the context of historical strife. To dream about playing for country is a dare, but it still remains the best bet out of trouble. "Only the poor play sir" a brother of India U-17 captain Amarjeet had said. Even as Mina would wish for her brother to come home from the club in Chandigarh, her mother would say it's best if the son remained away. Who would pay for nutritious food back home? She is out of the house hours before the sun peeps out, goes to the market, buys dried fish, tries to sell as much as she can.
By noon, she is waiting. For a phone call with an odd job, for some good news from a sponsor for her son – anything that would pull the family ahead. Ninthoingamba, who was close to his father, didn't nearly make it for the funeral. The family wasn't sure whether the news should be broken to him, even as he prepared for the world cup. Eventually, someone convinced the mother that he should know, and he sought permission from the coach to reach. It's in this context the young footballer went to represent the country.
It's just not the footballers but the cricket girls from Manipur too come to the mind. One in particular, Monika, stood out for her exuberance. She played cricket a decade back in a land of footballers and boxers, and turned even stories of hardship into delightful anecdotes.
Once, during a long train journey where the entire team of girls were in a packed general compartment of leering men, they decided to get off at a station midway and try catch another train. It was such a short stop that Monika and two others were trapped in the moving train. One by one, they jumped out and landed on the gravel tracks. "I was so injured that I couldn't even play that game!" Or about the time when she played Jhulan Goswami without a helmet as she wasn't used to wearing one, and the tall legendary Indian bowler muttered out, "yaar, helmet toh pehen lo, hamaari bowling itni be slow nahi hai!" Or the time in Bihar when they Read More…
Via:: Latest news sports – Indianexpress